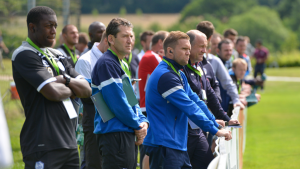 Coaches Corner is all about a place where coaches can come and get help, advice and inspirations whether as a new coach or existing.
It will involve over the months and years so if anyone has any links to websites that can help coaches, please email scott.lewis@wsyl.org.uk
For new U7 and U8 Coaches – Presentation delivered by SYL and Surrey FA:- http://www.wsyl.org.uk/u7-u8-manager-training-day/
The England DNA follows the following coaching Pathway regarding ages:
Foundation Phase: 5-11 Yrs. More info here.
Youth Development Phase: 12-16 Yrs. More info here.
Professional Development Phase: 18+ Yrs. More info here.
The FA are using Hive learning: https://www.hivelearning.com/thefa/ to connect with active coaches from all levels of the game and exchange tips, insights and session ideas. This covers all age groups