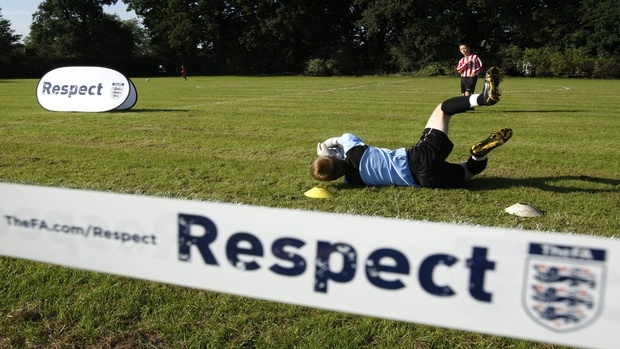 As promised I will keep you all up to date on the SYL Respect Pilot as we go through the season.
I have to say that yesterday was a moment to be proud of being associated with Youth Football, the feedback from Referees and Pitch Marshalls has been nothing but supportive of the pilot and its aims, and how much easier it will now be to nip the nonsense in the bud, making the Sunday morning football a fantastic place to be, especially for the Children.
Observation
Frank and I walked around a couple of grounds and it was very pleasing to see the Pitch Marshalls visible, along with the Respect Signage and "A" Boards on display, a fantastic effort from all clubs.
Respect Breach Issues
We had three teams reported for Respect issues, all are now reported to club secretaries to investigate and deal with.
Disappointingly one involved spectators standing behind an opposition linesman. We all know this is a conflict point and one aspect of the Pilot is to ensure this doesn't happen, so please make sure we do all we can to not have spectators stand behind opposition linesman.
Prawn Sandwich Technical Issues
Prawn Sandwich stood up well to all the new report forms for refs and Pitch Marshalls. There is one issue regarding submitting reports via mobile phones, it seems to be throwing you out on entering the referee selector, so for now please just use a laptop, desktop or tablet (This may have an issue though)
However the systems work that has gone on allowed us to find the Breaches quickly out of 350 matches and get the notifications to the Clubs promptly.
Quantity of Referee Reports
We do need to see an improvement in the number of referees inputting result cards, remember that referees are paid to do the job, part of this is to complete relevant match cards. We will shortly be auditing the club appointed qualified refs, along with league appointed refs to ensure reports have been submitted versus matches they have refereed or been appointed to. All Referees in the SYL have to play their part, please ensure club appointed refs are aware they have to report all matches.
Pitch Marshall Reports.
Many of the Pitch Marshalls submitted the nil return reports, it was just so pleasing to read many of the comments applauding the Pilot and saying how well the games went, can you please get the message out that we would like to see all the nil reports and positive comments, I'm not compelling I am just appealing to everyone's good nature, best practice.
I am convinced that if we all embrace the Pilot the level of disrespect and nonsense will reduce, please try to get Pitch Marshalls for all teams, and please don't be put of if some teams outside of the U11-U15 compulsory age groups don't have one, eventually it will be second nature.
Thank you for all your efforts in getting this up and running, no room for complacency, and then Sunday mornings will be even better.
Regards
Graham Ekins – SYL Chairman