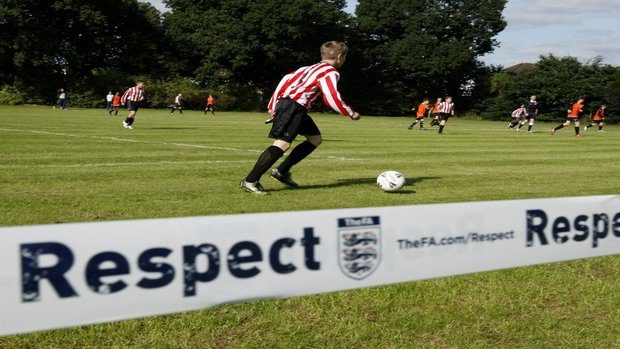 Hi everyone
Not too long before the season kicks off now. As we are now through the majority of registrations and organising teams, fixtures are out and some of you have started your pre season friendlies, its time for me to re-energise our Respect success of last season.
As many of you know we won the National Respect League of the Year, this is not just youth football. Consequently what we did last season was seen as a success by the FA, but not only the FA, yourselves, through the surveys, feedback and workshops we ran also said lets keep this going, and keep it going we will.
Over the coming weeks we will be drip feeding out more information of Match Day Respect (we can no longer call this a respect pilot, as its now adopted by the FA). That said its worthy of a few points to note on the few changes we are making:-
Pitch Marshalls will now be called Respect Marshalls
The Respect Marshalls are now compulsory at all ages
We will be distributing on Collection night small cards with the main points of Match Day respect highlighted to be handed to all Managers and Parents.
In addition Frank is working on obtaining more respect vests, in particular for the U7 new teams, along with other new sides. He will be letting you know how to obtain these and the process in due course.
We are working hard with designing a better induction process for referees to get them better positioned in working with Respect Marshalls, but that said please can all clubs ask their Respect Marshalls to approach and welcome the child referees to games, just talk to each other.
One final point that we will elaborate on is that Managers and Coaches are being asked to stand in one area only, as per best practice guidance. Do not position 3 or 4 coaches around the ground, and do not march up and down the line, tracking the linesman. This is poor coaching practice and also leads to disrespect, more on that soon.
Our respect section of the website has been updated please find all resources there for download.
http://www.wsyl.org.uk/respect/respect-marshall-education/
Below is also a link to the FA Play your Part guide for youth football
http://www.thefa.com/news/2017/aug/14/grassroots-fa-youth-football-guide-140817
Please cascade this note to everyone in your club.
Regards
Graham Ekins
SYL Chairman