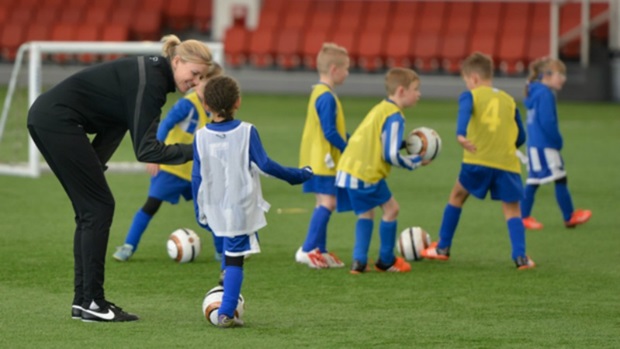 ** Extra places now available **
Surrey Youth League are delighted to be able to offer clubs a fantastic opportunity to do an FA Level 1 coaching course.
This course has been specially organised for new managers whose teams operate in the Surrey Youth League for the 2017/18 season.
Places are restricted to one per club. We are trying to help clubs by subsidising the cost of the course to £100.00 from £150.00.
The course is being held at Imber Court, Ember Lane, East Molesey, Surrey, KT8 0BT.  ALL SESSIONS MUST BE ATTENDED.  
 Those with a valid (less than 3 years old) FA Emergency Aid or FA Safeguarding Workshop certificates can on production of the certificate be excused these evenings by arrangement with the course tutor. Because the rate is so good and demand is high the league must warn clubs that any club whose candidate fails to attend a session or complete the course without exceptional reason will be charged the full price of £150.  Please be sure you candidate is available for all the course sessions before you book it. Please also see the terms and conditions as refunds will only be made in certain circumstances.
 Course Dates
Saturday 9th September 2017                                             Induction / Practical 1                       9.30am-4.30pm
Wednesday 13th September 2017                                     Emergency Aid                                    7.00pm-10.00pm
Saturday 16th September 2017                                          Practical 2                                            9.30am-4.30pm
Wednesday 20th September 2017                                     Safeguarding Children                      7.00pm-10.00pm
Saturday 23rd September 2017                                         Practical 3                                            9.30am-4.30pm
Saturday 30th September 2017                                          Final Assessment                                9.30am-4.30pm
Applications will only be accepted from club secretaries and chairs: To book, please go to
https://www.surveymonkey.com/r/SYL-Level-1-Sept-2017
A confirmation e-mail will be sent asap. Your club will be invoiced via Prawn Sandwich. Incorrect or incomplete applications will not be processed. For more information please contact frank.thompson@btinternet.com
This course will book up very fast, there are only 18 places so please book as early as possible to avoid disappointment
Frank Thompson