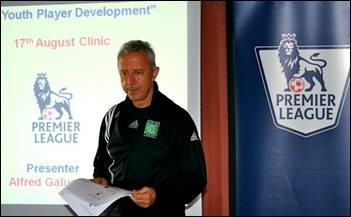 Coaching Masterclass
The SYL are delighted to announce that the world renowned coach educator Alfred Galustian has offered to do a coaching workshop for us.
It will be  21st May 2023   at Leatherhead Youth Football Club River Lane, Leatherhead, Surrey, KT22 0AU 10-12am.
The topic will be "Ideas on developing a "winning "team style" (For players 8-16) we expect demand will be high so to confirm your place please register at
Click here you reserve your place
Alfred Galustian started his soccer career as a player for Wimbledon. He is the Co-Founder and International Director of Coerver® Coaching, and has been largely responsible for building the program globally. To date Alfred has worked as a Coach Instructor with 17 National Federations including the Brazilian, French, English, Japanese and Australian. Alfred has also worked with over 50 top professional clubs as a coach's educator, including Bayern Munich, Manchester City, Real Madrid, Roma, Benfica, Olympique Marseille and Arsenal. During the 2010/11 Season Alfred was the Specialist Skills Coaching Advisor to the Premier League. He received an award from FIFA in 2014 for 40 years contribution to the development of the game around the World globally.