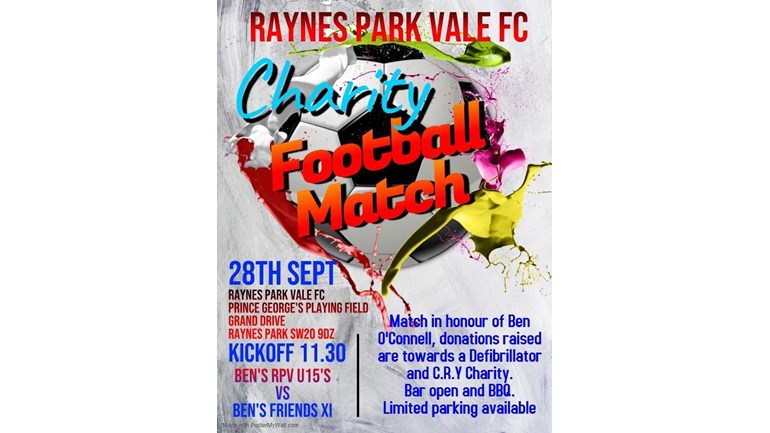 Charity Football Match – 28th September – Raynes Park Vale FC – 11:30 Kick off
On the 18th July 2019 Ben O'Connell was taken from us. Ben was just 14 years old and leaves behind his mum Cathy, dad Mark, Sister Scarlett, many friends and family. We now know Ben was born with a heart condition, one that showed no symptoms and one we were all unaware of. The condition never held him back and he led life to the full, until he was taken so suddenly.
Ben loved his football with a passion as an accomplished player in his own right representing his school Glyn, West Sutton Little league and Raynes Park Vale Youth F.C & Motspur Park F.C in the Surrey Youth League. Ben was also a lifelong Arsenal fan a passion he shared with his dad. The local footballing community have come together to arrange a charity match to celebrate Ben's passion for football and life and raise money for the CRY charity.
The CRY organisation (Cardiac Risk in the Young) is a charity established to raise awareness of this issue, to help identify children that may be affected and support the families of those that are. Through their work they aim to not only identify those at risk but to ensure correct medical treatment is given. They arrange for screening of children to ensure conditions are identified and offer emotional support to those families affected.
We hope that this football match and Ben's legacy will be one of raising awareness of this condition so that his friends, family and others can avoid such a tragedy through screening at an early age. Please give generously to the CRY organisation who will be instrumental in achieving this goal.
https://www.justgiving.com/fundraising/benoconnell2